The EVO 2 A system is the first project delivered by Vianord.

It is an all-in-one unit in the size 66 x 86 cm (26" x 34").

It is the first unit of its kind and size which is also equipped with a separate pre-wash section for digital plates with black (LAMS) layer running like a flowline (prewash/wash/cleaning/wiping).
Exposure
New water circulation cooling bed system
Uniform and constant temperature without any exposure time limit.
Vacuum system for analogic plates exposure
Probe for temperature control
High concentration of UVA lamps to reach an emission of about 30mw/cm2 
Light integrator
Lamps air flow cooling system with temperature control
Optical fibers lamps control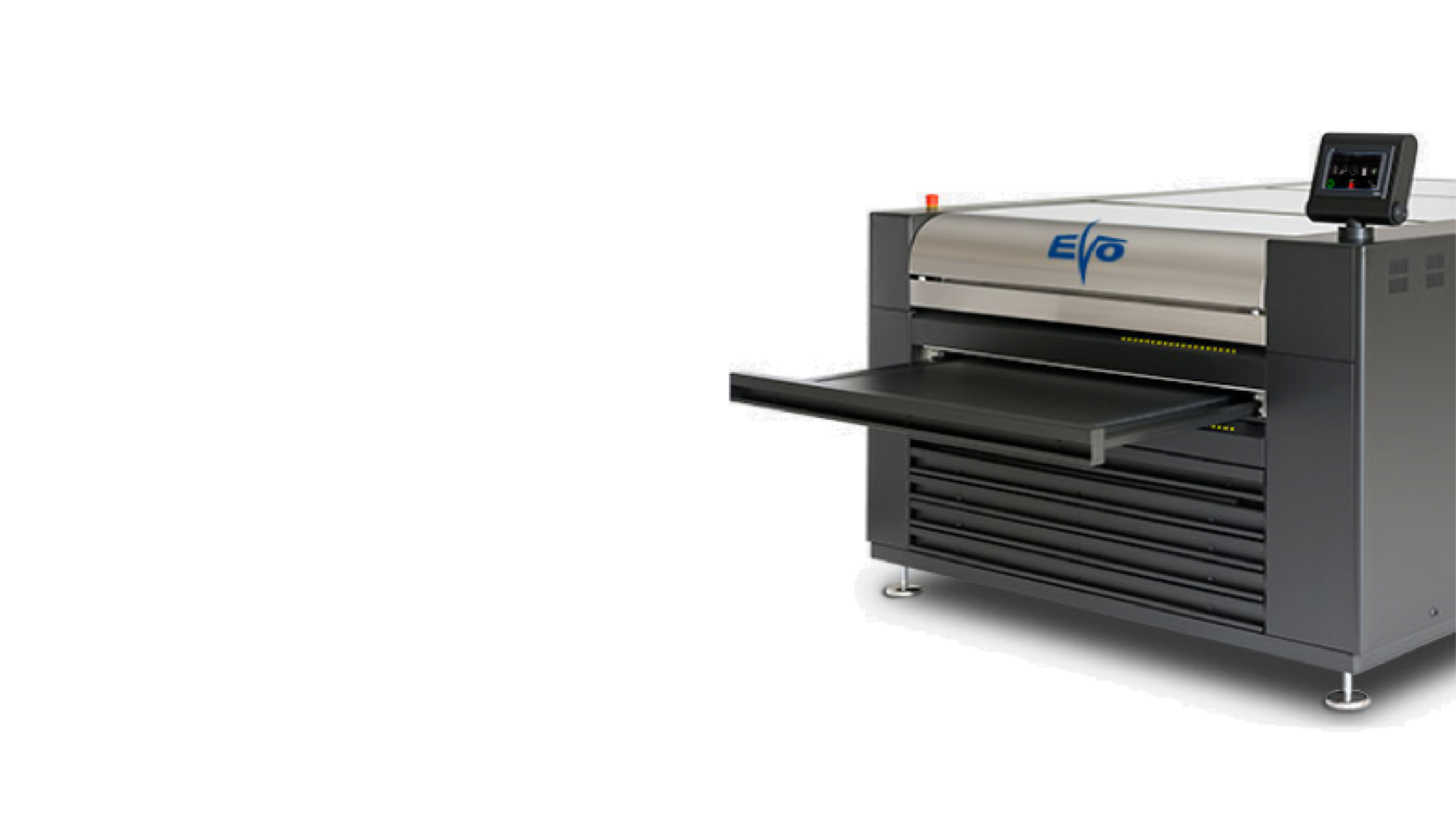 Washout
Digital washout with separate pre-wash section to prevent contamination of the main washout solvent with black layer
In-line washout system with front plate entrance and exit
The new washout system, with brushes' double movement, allows an extremely fast washout time (from 5 to 10 min. depending on plates thickness)
Servodrive motor advance system to enable a constant and repetible washout speed
New volumetric pump and sensitive pressure sensor allow a precise % polymer control
Automatic solvent replenishment system
Fresh solvent consumption control over the machine life cycle and programmable over a time frame
Fresh solvent flow regulation option on the touch screen
Constant solvent temperature thanks to water circulation serpentine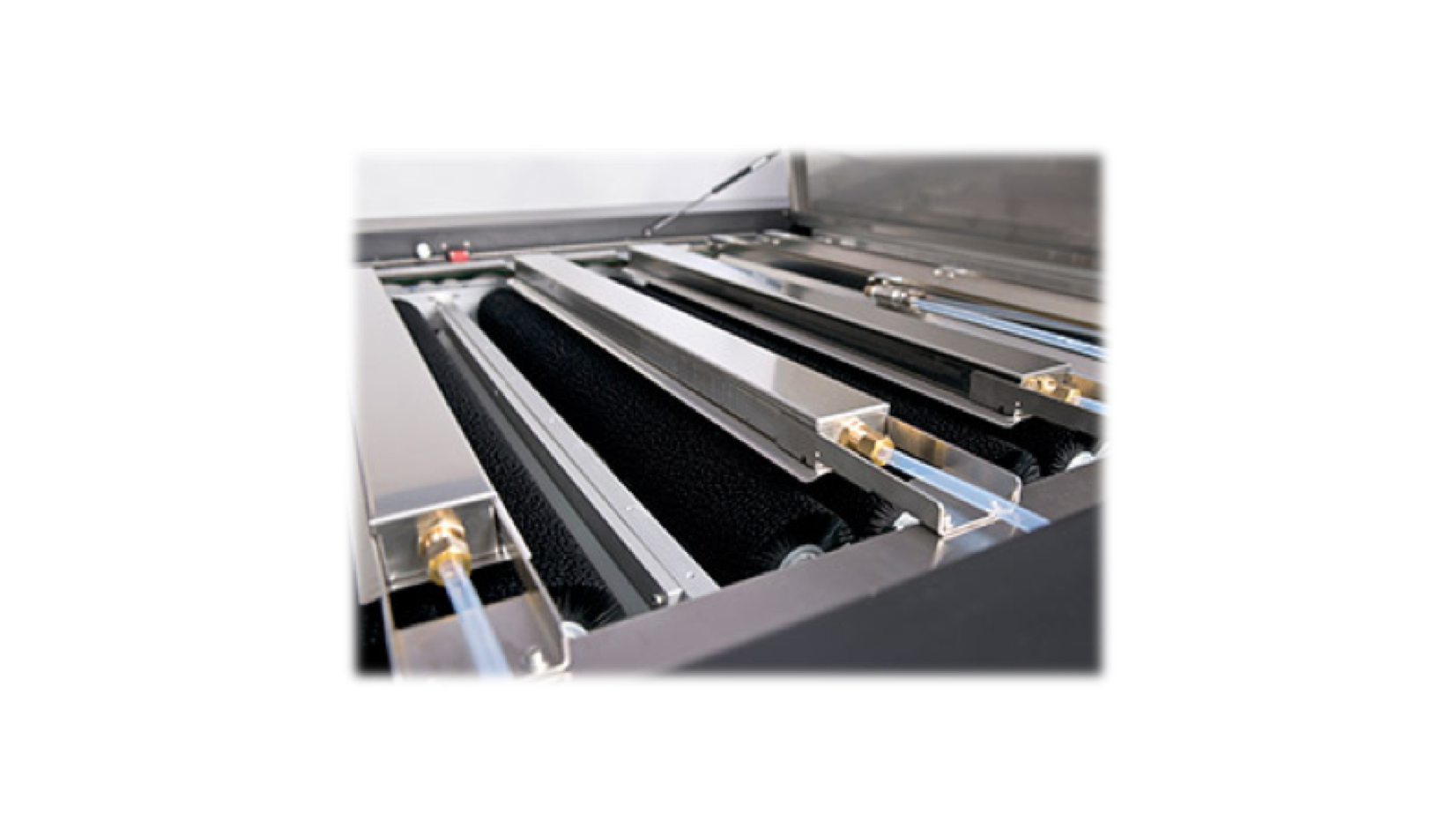 Dryer
4 sealed drawers to prevent any leak of fumes
Drying temperature reached in a very reduced time thanks to the new hot air generation and circulation system
Automatic pre-heat system
Automatic switch off option
Optimal T° uniformity thanks to 2 separate T° controls interfaces
New air suction system design to ensure a faster plate drying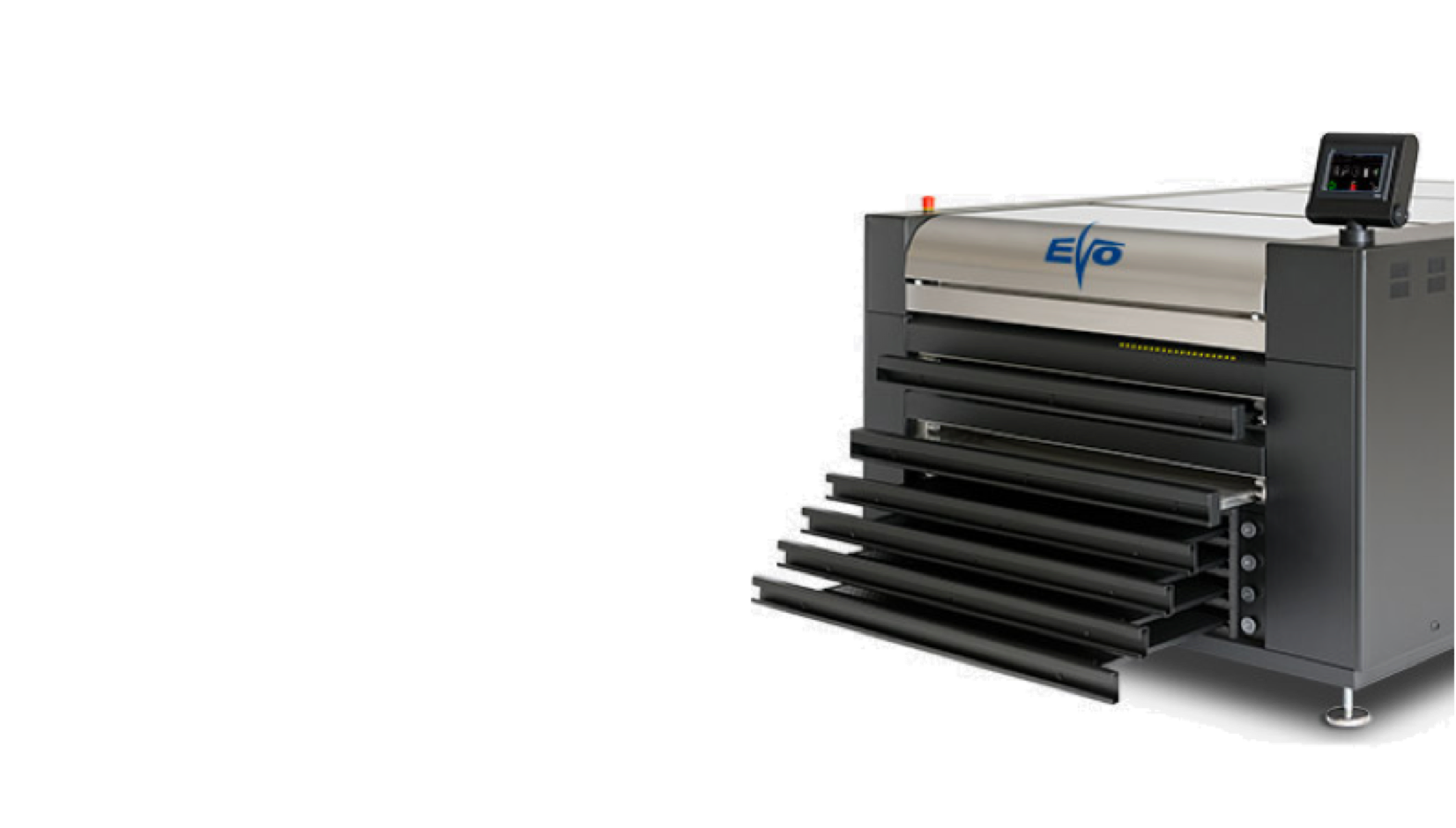 Light-Finisher
Auto combined UVA-UVC post exposure (

simultaneous

/consecutive/delayed)
Air flow cooling system
Optical fibres lamp control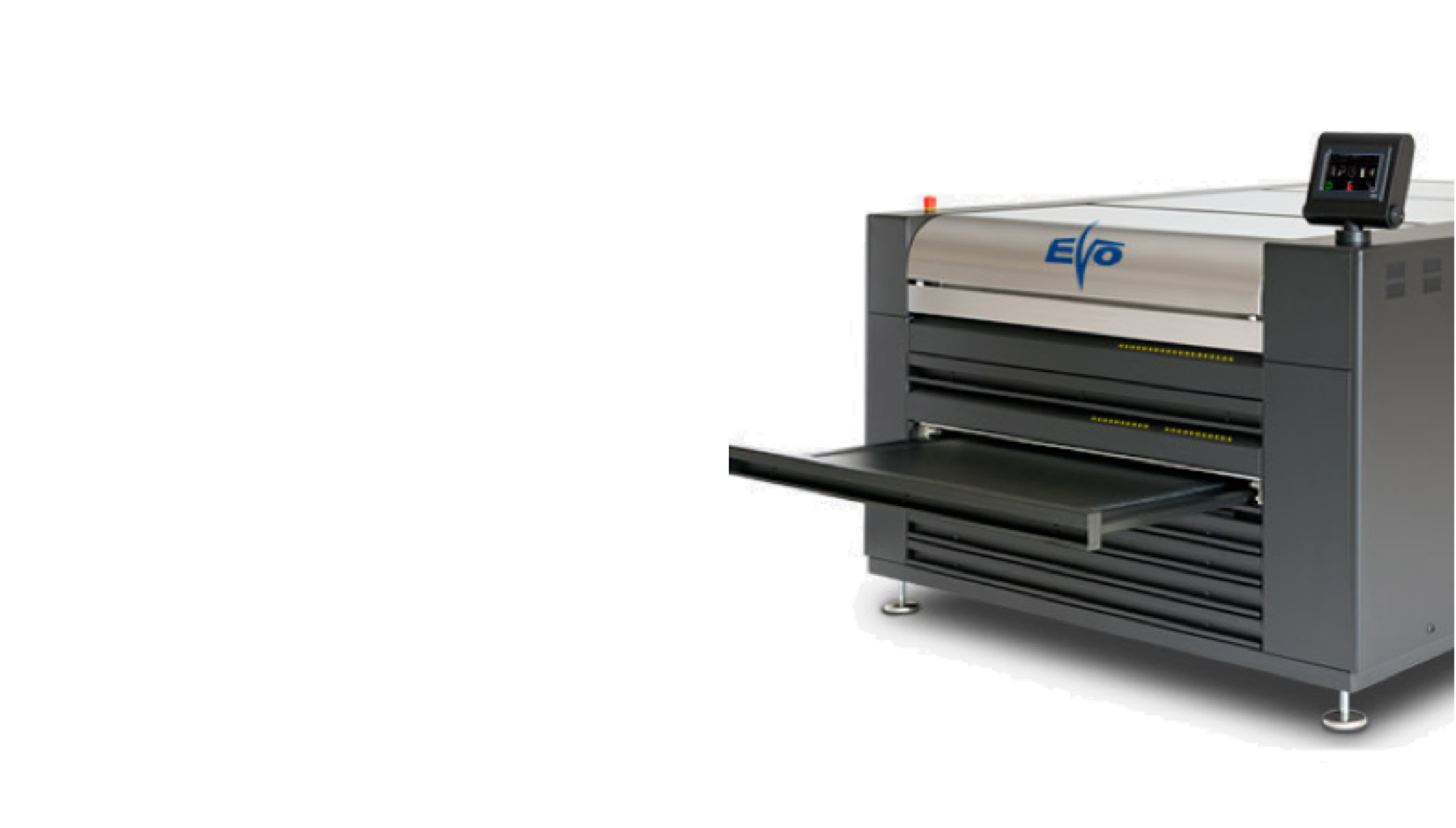 Other Features
Programmable automatic solvent and dryer warmup
Automatic standby after the last plate processed
Remote access (optional)
Active component visualisation during the process
Manual function to run the components separately
Memorisation of the plate process parameters (up to 24 channels)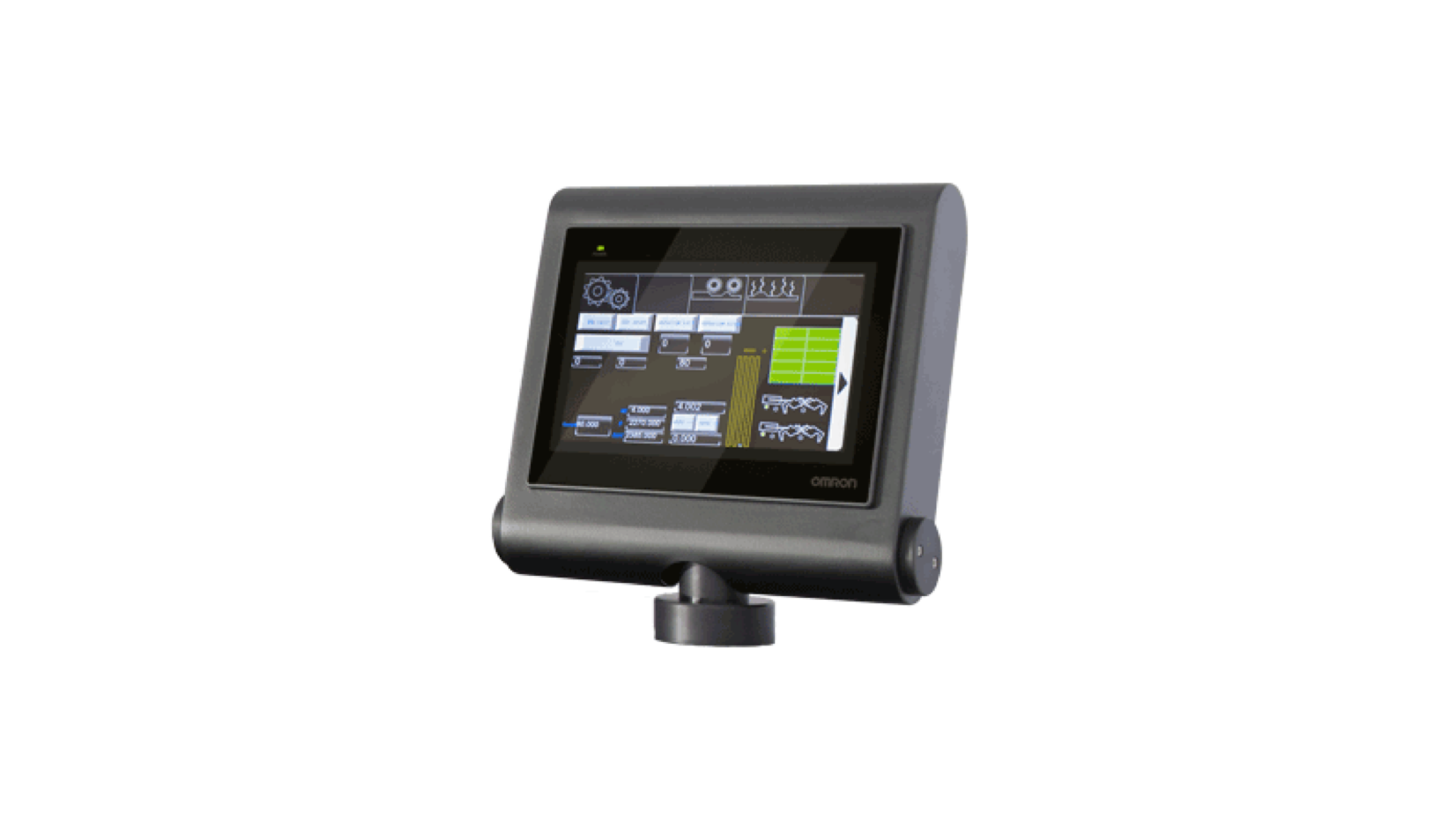 Encumbrance

The minimum distance from the walls to your system should be of 1.2 mt (47.2") in front, 0.5 mt (19.7") at the rear and on the left-hand side and 0.65 mt (25. 6") on the right-hand side.

The respect of the minimum distance from the walls is critical to allow sufficient space to the users and the engineers to be able to have access to the system in case of maintenance and repairs.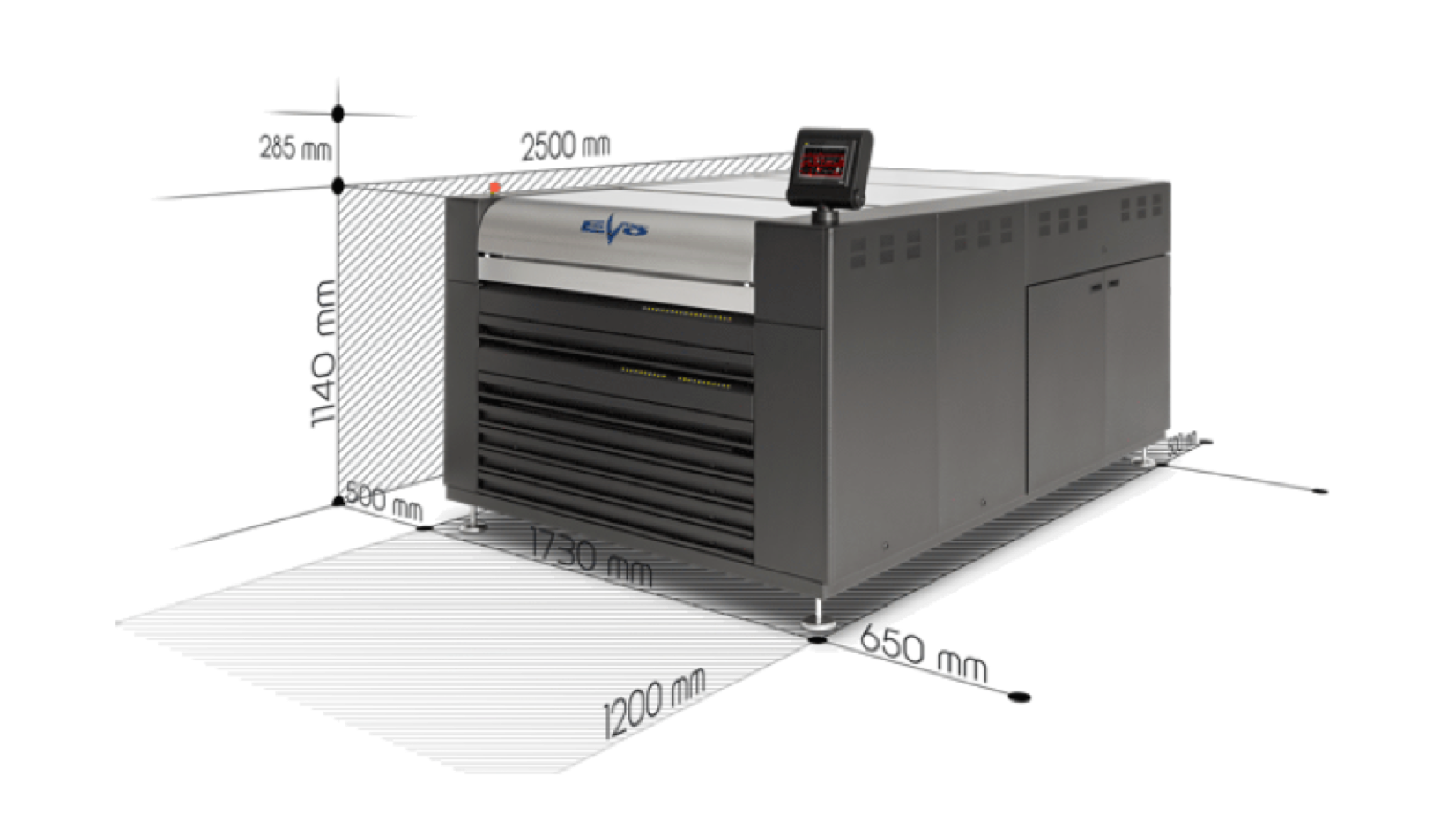 CE Certification
The  equipment is designed and manufactured according to the EEC safety and health standards and on the basis of the verifications carried out according to the essential requirements of the Directive 2006/42/EC, the system respects and is in compliance with all the applicable points.

General Features
This automatic, PLC controlled, EVO system is specifically designed for high quality digital and conventional photopolymer plates for small printing applications (e.g. narrow web).

Solvent
This System is suitable for analogue and digital, polyester backed, solvent-washable photopolymer Flexo plate
.
It is designed to work in a standard "drum-to-drum" configuration where fresh solvent is supplied to the washout unit from a drum and the saturated dirty solvent is pumped from the unit to a recovery drum. It has been tested with conventional solvents, with flashpoint above 62°C (144°F). The system's installation kit includes two Ø 16 mm - 5 mt solvent hoses with fittings, one level switch for the fresh solvent drum and another for the used solvent drum. Please note that if you intend to use your this system with permanently installed tanks, special level switches may be required.

Exposure
- High concentration UV-A radiations
- Lamps temperature management
- Controlled airstream for lamps cooling
- Exposure bed temperature management
- Water cooled exposure bed
- Light integrator for compensation of UVA aging lamps
- Vacuum system for analogue plates
- Fibre optics for lamp control

Processor
PLC driven system designed to process solvent-washable, polyester-backed, analogue and digital plates up to a size of 90 x 120 cm (36x48 inch) and thickness up to 7 mm (0.276 inches).

Dryer
- Drawers Pre-Heating management
- Temperature management system
- Separate Heat management (one each 2 drawers)
- Dedicated exhaust system
- Automatic switch-off (programmable)

Light Finisher
- Flexible post exposure and light finishing sequence
- Static cooling system (air cooling)
- Fibre optics for lamp control
Production Data Recording
This Vianord systems offer the opportunity to benefit from extensive production data collected directly from the platemaking system. Your production data can easily be turned into actionable information. You will be able to build reports customized for your own production needs to calculate and display operations data throughout your organization. Platemaking operations that are operated and maintained based on actionable information are more reliable and more profitable.

Stress-Accumulation Early-Warning
The system provides Early 
Alerts 
when the time to replace an over-stressed part, causing too much risk, has come. This innovative function allows users to intentionally replace parts that are tired, aged, and degraded just before they fail. More than one hundred parts, critical to the uptime of the system, have been identified and data relative to their maximum-lifetime-
expectation
stored in the software.

Remote Diagnostics
Remote-Monitoring and Remote-Diagnostics (to be purchased separately); The concept of automation symbolises high quality and productivity, so ensuring you experience minimal downtime, for Vianord is essential. For that reason, this EVO system may be fitted with an Industrial VPN Gateway - EWON COSY 131 - designed to offer Vianord Certified Engineers remote access, across the Internet. This innovative system will help you keep uptime high, maintenance costs low, and extend the system's useful life.

System Dimensions (net)
250 x 173 x 114 cm


(98.43 x 68.11 x 44.88")


Packing Dimensions
Light Packing on Pallets is preferred and recommended when the system requires a full truckload and is shipped just within Europe. Dimensions: 260 x 185 x 140 cm (102.4 x 72.8 x 55.1")

Industrial Wooden Crates are favoured if the system must withstand multiple transhipments during transport and is mandatory when shipped outside the continent. Dimensions: 278 x 191 x 159 cm  (109.45 x 75.2 x 62.6")

The dimensions mentioned above are for reference only; packaging dimensions may vary depending on the packing company hired for the job.

Packing Weight
Light Packing on Pallets: 1120Kg (2470Ib)


Industrial Wooden Crates: 1270 Kg (2780 Ib)

The weights mentioned above are for reference only; packaging weight may vary depending on the packing company hired for the job.

Mains Electricity
Power Supply (field configurable)
360 / 440 Volt – 50 / 60 Hz - 3Ph / N / PE   -   207 / 243 Volt – 50 / 60 Hz - 3Ph / PE

Current (nominal load)
16 A (360/440 Volt configuration)   -   28 A (207/243 Volt configuration)

Power Rating (nominal)
10 Kw

Connecting Wires
5 x 4 mm2 (360/440 Volt configuration)   -    4 x 6 mm2 (207/243 Volt configuration)


Compressed Air Supply
To perform to the best of its possibilities, the system requires a continuous and stable supply of compressed air at a pressure of at least 7 bar (101.5 psi) and not more than 10 bar (145 psi), with pressure dew point 3°C and max. residual intake oil content of < 0.01 mg/m3. Consider also an average consumption of 70 l/hr. The system installation kit includes a 5-meter - Ø 6mm air connecting pipe for push-in fitting.

Exhaust
The unit is equipped with a well-designed exhaust system that collect and conveys vapours and fumes from the different sections the machine and discharge them as quickly and silently as possible. The blower in the systems has sufficient power to vent the entire equipment when the tube supplied is connected directly to a vent hoods in the external wall or on the roof.

Washout/Dryer
Duct connection: Ø 100 mm (3.94")     Airflow: 200-350 m3/h

Light-Finisher
Duct connection: Ø 100 mm (3.94")     Airflow: 200-350 m3/h

Working Environment
The system should be installed in a clean, constant-temperature and constant-humidity pre-printing environment with a temperature between 18 and 26°C (64.4 and 78.8°F) and a non-condensing relative humidity in the range of 40 to 60%.
To maintain such environmental standards an efficient  heating/cooling and ventilating system may be required. 


System Colour
Vianord offers all equipment in standard powder coating Vianord Black.

In addition, Vianord offers numerous ways you can personalize your system. In fact, Vianord offers the best customization options in the industry! This allows you to showcase your brand and company's spirit in ways other companies can't offer. You can choose your personal colour and have your logo, company name, or slogan pop.